Recognized for their altruism, advocacy and professional skill, 11 physicians were honored by the AMA Foundation with the 2023 Excellence in Medicine Awards.
The AMA Foundation, the philanthropic arm of the AMA, recognized physicians who exemplify the highest values of volunteerism, community engagement, leadership and dedication to the care of populations who are underserved by limited access to health care. The awards were presented at a ceremony hosted by the foundation during the 2023 AMA Annual Meeting in Chicago. Recipients include:
John A. Johnson, MD, MBA
Dr. Johnson received the Dr. Debasish Mridha Spirit of Medicine Award, which recognizes the work of U.S. physicians who demonstrate altruism, compassion, integrity, leadership and personal sacrifice while providing quality health care to destitute, distressed or marginalized populations in underserved communities.
He is a board-certified psychiatrist with more than three decades of experience in mental health care spanning three continents and is an associate professor of psychiatry at Wright State University Boonshoft School of Medicine in Ohio. Dr. Johnson embodies a philosophy of creating an ecosystem to help the most marginalized patients become more empowered, productive and balanced members of society.
The ecosystem Dr. Johnson built in Ohio has served tens of thousands of patients who have fallen through the cracks. Among his many contributions to the profession, Dr. Johnson founded a mental health center and residential treatment facility, reopened an inpatient psychiatric hospital that had been closed due to state funding losses, pioneered a long-term homeless and housing program, and most recently, reopened a shutdown hospital in rural Appalachia.
In honor of Dr. Johnson, a $2,500 grant was awarded to East Ohio Regional Hospital.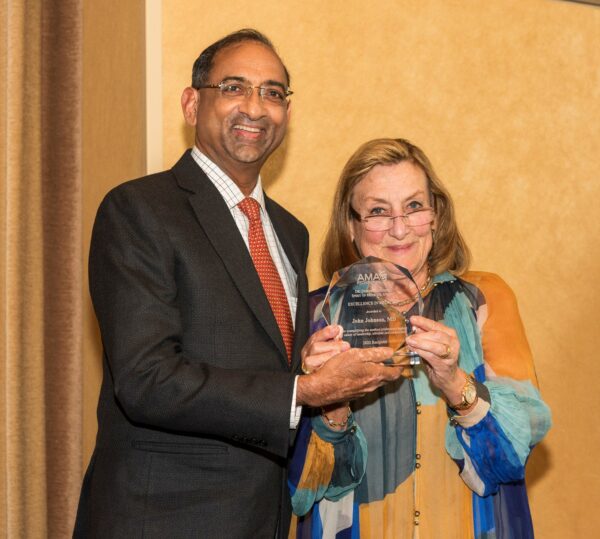 Lynn Jeffers, MD, MBA, FACS
Dr. Jeffers was given the Dr. Edmond and Rima Cabbabe Dedication to the Profession Award, which honors physicians committed to expanding knowledge through teaching, conducting research and publishing. Other qualifying virtues include leadership, volunteerism and philanthropic activities in medical and other civic organizations.
She chairs the AMA Council on Medical Service and the AMA Section on Plastic Reconstructive and Maxillofacial Surgery. She also is a trustee and past president of the American Society of Plastic Surgeons. She serves as the chief medical officer at St. John's Regional Medical Center and St. John's Hospital Camarillo, the medical director at the Integrated Breast Center and a plastic surgeon in her independent private practice in the Los Angeles area.
Dr. Jeffers led the COVID-19 response for her national specialty society as well as her two hospitals. Through her leadership, her hospital administered one of the earliest convalescent plasma treatments in the state, rolled out vaccine clinics, sourced personal protective equipment and other supplies, and prioritized the safety of physicians, staff and patients.
In honor of Dr. Jeffers, a $1,250 grant was awarded to the St. John's Healthcare Foundation and a $1,250 grant was awarded to the Plastic Surgery Foundation.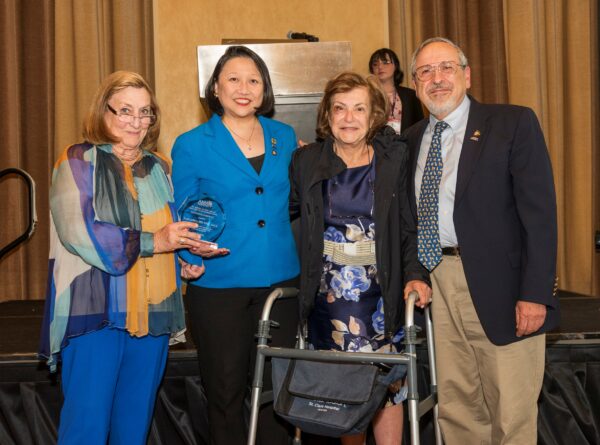 Joshua Cohen, MD, MPH
Dr. Cohen received the Dr. Jacqueline A. Bello Friend of the AMA Foundation Award, which honors AMA staff, donors and volunteers for their active engagement and unwavering support of the AMA Foundation. Recipients are those who inspire hopefulness and encourage others to join them in giving their time and personal resources to further advance the foundation's mission.
Dr. Cohen is chief medical officer at Braeburn, a Plymouth Meeting, Pennsylvania-based company focus whose extended-release, subcutaneous injectable form of buprenorphine received Food and Drug Administration approval in May. Dr. Cohen, board-certified in neurology and headache medicine, has been an active member of the AMA for 23 years, serving in a variety of leadership positions including as chair of the AMA Medical Student Section and delegate to the AMA House of Delegates as a member of the New York delegation.
From 2013–22, he served on the AMA Foundation's Board of Directors and as the foundation's president from 2017–18. Dr. Cohen founded the AMA Foundation National LGBTQ+ Fellowship Program which promotes best practices and shared outcomes, and aims to dramatically improve the quality of LGBTQ+ health care across the nation.
In honor of Dr. Cohen, a $2,500 grant was awarded to the LGBTQ+ fellowship program.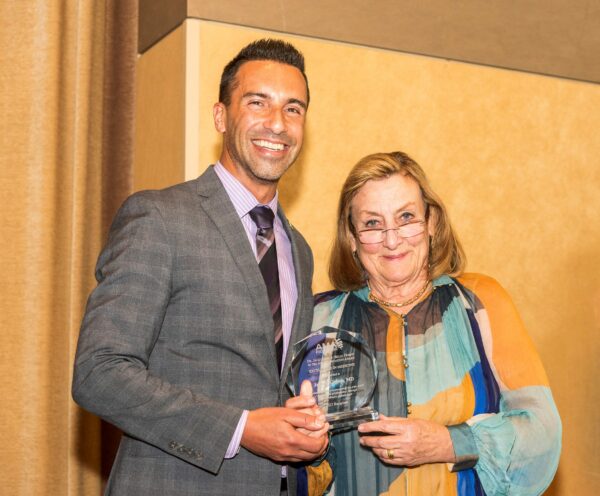 Jeremy Toler, MD
Dr. Toler was given the Excellence in LGBTQ Health Award, which honors physicians, residents and fellows, and medical students in their final year who have demonstrated outstanding work, innovation and leadership in LGBTQ+ policy, advocacy, patient care, academics (teaching and research), workforce diversity or health care administration.
Dr. Toler is an assistant professor of clinical child neurology at Louisiana State University (LSU), medical director of the Pediatric Epilepsy Program at Children's Hospital New Orleans and co-director of the LSU Epilepsy Center. He also is a former board member of GLMA: Health Professionals Advancing LGBTQ Equality and chaired the board's committee on policy and government affairs. He has served two terms on the AMA Advisory Committee on LGBTQ Issues, representing the AMA Medical Student Section and the AMA Resident and Fellow Section, respectively.
From 2013–22, Dr. Toler represented GLMA in the AMA House of Delegates, where he helped to shape numerous AMA policies that have improved the lives of the LGBTQ+ community. He has also served as chair of the LGBTQ Health Section Council since its inception in 2018.
In honor of Dr. Toler, a $2,500 grant was awarded to GLMA: Health Professionals Advancing LGBTQ Equality.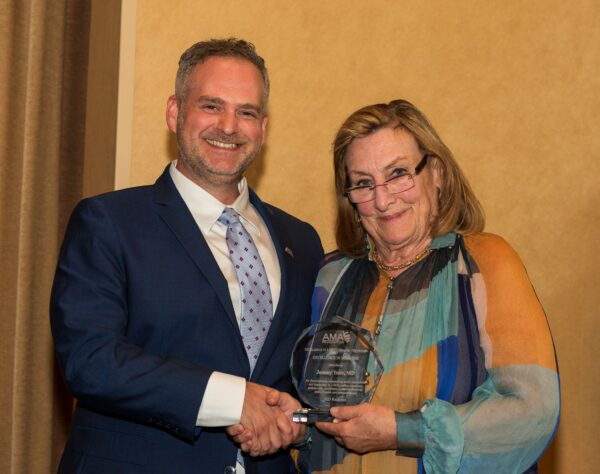 Carl Streed Jr., MD, MPH, FACP
Dr. Streed also received the Excellence in LGBTQ Health Award. He is an assistant professor at Boston University Chobanian & Avedisian School of Medicine and the research lead for the GenderCare Center at Boston Medical Center.
He has chaired the AMA Advisory Committee on LGBTQ Issues, served on the board of GLMA: Health Professionals Advancing LGBTQ Equality and now is president-elect of the US Professional Association for Transgender Health.
Dr. Streed's clinical, training, advocacy and research initiatives regarding the health and well-being of marginalized people, particularly sexual and gender minority populations, have been used to influence and inform institutional, state and federal policy as well as clinical care, academic research and scholarship.
In honor of Dr. Streed, a $1,250 grant was awarded to the GenderCare Center at Boston Medical Center and a $1,250 grant was awarded to the Point Foundation.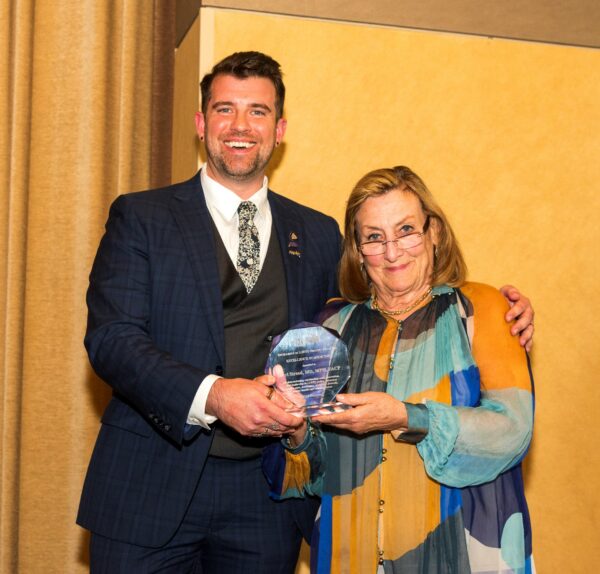 Mollie Marr, MD, PhD
Dr. Marr also received the Excellence in LGBTQ Health Award. A psychiatry intern at Massachusetts General Hospital/McLean in the Physician Scientist Training Program, she is passionate about increasing access and support for low-income, LGBTQIA+ and underrepresented students historically excluded in medicine and science.
During medical school, Dr. Marr served as a co-director of the Research and Analytics Committee of the Medical Student Pride Alliance and the student chair of the LGBTQIA+ Committee at the American Medical Women's Association. She was a 2022 GLMA Health Professional in Training Fellow and is the outgoing medical student representative to the AMA Advisory Committee on LGBTQ Issues. She now serves as a trainee representative for the Sexual Orientation and Gender Identity Committee of the American Academy of Child and Adolescent Psychiatry.
In honor of Dr. Marr, a $2,500 grant was awarded to the Medical Student Pride Alliance.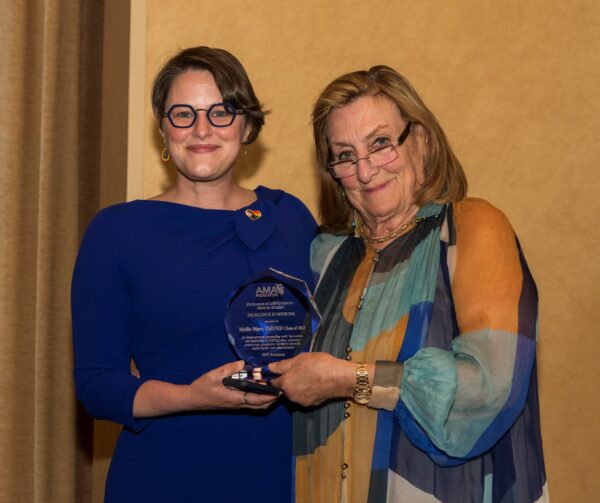 Josef Machac, MD
Dr. Machac was given the Jack B. McConnell, MD, Award for Excellence in Volunteerism, which honors older adult physicians committed to providing medical care to those without access to health care in the U.S.
Dr. Machac was born in what is now the Czech Republic and his family immigrated to the U.S. in 1964. At Mount Sinai Hospital in New York City, he became director of nuclear cardiology and nuclear medicine, eventually becoming a professor of radiology and medicine. He has authored or co-authored more than a dozen book chapters and 120 peer-reviewed scientific publications as well as hundreds of abstracts. Dr. Machac has also presented at national and international scientific meetings, given hundreds of lectures on medical topics and trained dozens of residents and fellows.
In 2015, he fully retired from Mount Sinai Hospital. For nearly 10 years, Dr. Machac has volunteered weekly as an internist and cardiologist at the Bergen Volunteer Medical Initiative, a medical clinic in Hackensack, New Jersey, that provides free medical care for people who cannot afford medical insurance.
In honor of Dr. Machac, a $2,500 grant was awarded to the Bergen Volunteer Medical Initiative.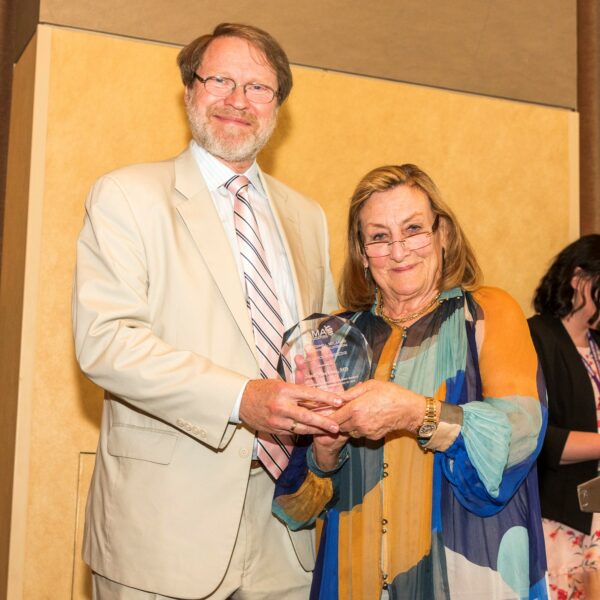 Florence Jameson, MD
Dr. Jameson received the Pride in the Profession Award, which honors physicians who help communities that are underserved by limited access to health care. An OB/GYN, Dr. James opened her private practice in Las Vegas in 1985 and has been in solo practice ever since. She has served as a member of the Clark County Medical Society for 38 years and as a past president. She is also the past president of the Nevada State Medical Association.
Dr. Jameson is founder and CEO of Volunteers in Medicine of Southern Nevada (VMSN), a free health clinic dedicated to providing medical services to patients who are uninsured. Prior to starting VMSN, she opened a clinic at the Juvenile Justice Center of Southern Nevada to care for incarcerated women who would otherwise have no medical care.
In honor of Dr. Jameson, a $2,500 grant was awarded to VMSN.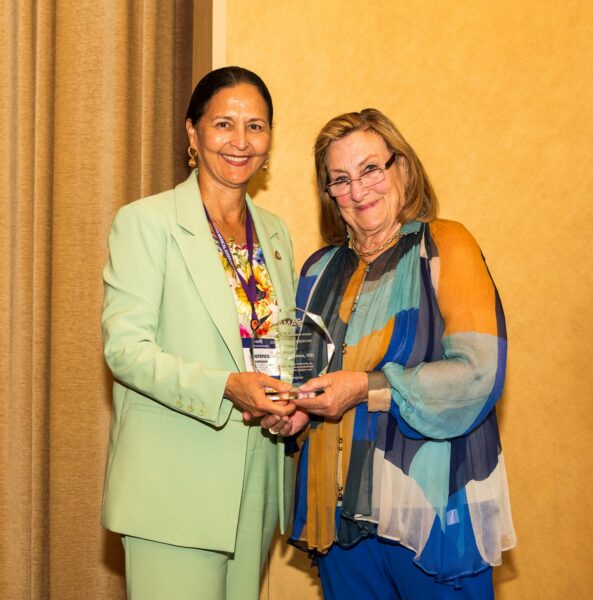 Caitlin Bernard, MD, MSCI, FACOG
Dr. Bernard received the inaugural Courage in Women's Health Advocacy Award, which recognizes deserving physicians dedicated to clinically advancing women's health or demonstrating courageous advocacy in support of women's health.
Dr. Bernard is an OB/GYN and complex family planning specialist who is an assistant professor of obstetrics and gynecology at Indiana University School of Medicine. Her clinical, research and advocacy work focus on expanding access to comprehensive reproductive health care, including contraception, abortion, miscarriage and pregnancy care. In the wake of the Dobbs ruling in 2022, she spoke out publicly about the harms of abortion bans and received both support as well as political persecution.
A diplomate of the American Board of Obstetrics and Gynecology, Dr. Bernard maintains professional relationships with organizations such as the Society for Family Planning, the Association of Reproductive Health Professionals and Physicians for Reproductive Health. Beyond her teaching and medical research activities at Indiana University, she is an assistant visiting professor at Moi University in Eldoret, Kenya.
In honor of Dr. Bernard, a $2,500 grant will be awarded to Physicians for Reproductive Health.
Warren Heffron, MD
Dr. Heffron was given the International Award in Medicine, which honors physicians for outstanding international service in the areas of medical practice, medical education or medical research.
He worked in Puerto Rico at a mission hospital, providing medical education and service, and also at the Christian Medical College in Ludhiana, Punjab, India, where he taught and started a small family medicine residency program. Dr. Heffron later worked in Ecuador, Egypt and Saudi Arabia, again consulting and teaching in developing family medicine educational programs. He was an officer and on the board of directors of the World Organization of Family Doctors and served several years as the regional vice president for the Americas. His consultations include 64 individual consultations in 23 different countries on six continents.
Dr. Heffron had a 53-year career at the University of New Mexico (UNM) School of Medicine and was a founder of the Department of Family and Community Medicine. He started the family medicine residency at UNM and chaired the department on three different occasions. He was president of the New Mexico Medical Society and served as an alternate delegate to the AMA.
In honor of Dr. Heffron, a $1,250 grant was awarded to the UNM Foundation Warren and Rosalee Heffron Fellowship and a $1,250 grant was awarded to In His Image International.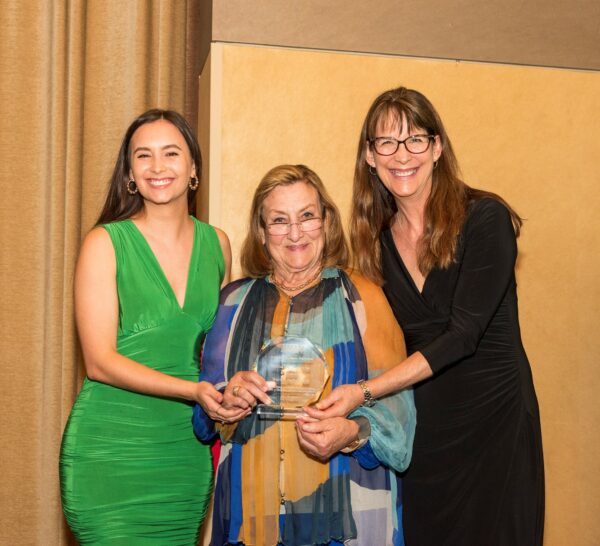 Matthew Wynia, MD, MPH
Dr. Wynia received the AMA Foundation Award for Leadership in Medical Ethics and Professionalism, which honors people dedicated to the principles of medical ethics and the highest standards of medical practice and who have made an outstanding contribution through active service in medical ethics activities. The award is in partnership with the AMA.
He directs the University of Colorado Center for Bioethics and Humanities. The center runs an annual Aspen Ethical Leadership Program and major community engagement programs, including the Holocaust Genocide Contemporary Bioethics program and the "Hard Call" podcast series. Earlier in his career, Dr. Wynia spent 18 years at the AMA, where he led the Institute for Ethics and the Center for Patient Safety and was director of patient and physician engagement. He also led the project on the history of African Americans and the medical profession that, in 2008, prompted the AMA's public apology for a legacy of racial discrimination and exclusion in organized medicine.
Dr. Wynia has delivered more than two dozen named lectures and visiting professorships and he is an author of more than 230 academic publications. He is a fellow of The Hastings Center, past president of the American Society for Bioethics and Humanities and past chair of the Ethics Forum of the American Public Health Association and the Ethics Committee of the Society for General Internal Medicine.
In honor of Dr. Wynia, a $2,500 grant was awarded to the University of Colorado Center for Bioethics and Humanities.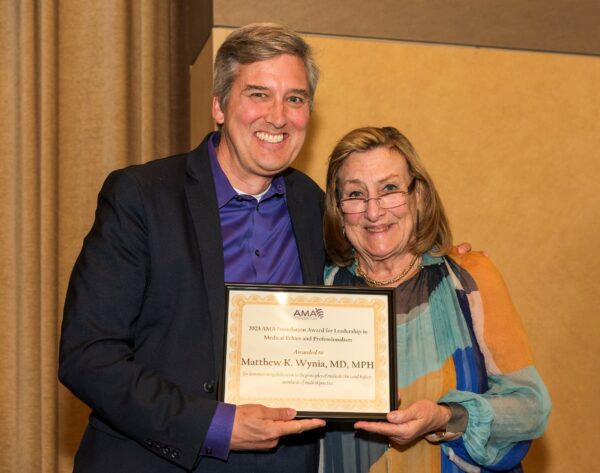 A version of this article, authored by Kevin B. O'Reilly, originally appeared on the American Medical Association website.