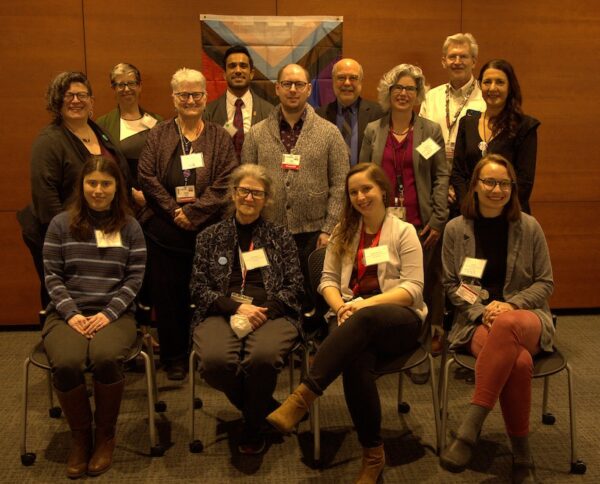 This past March, the AMA Foundation (AMAF) hosted an LGBTQ+ Commission meeting at the University of Wisconsin School of Medicine and Public Health (UWSMPH), the first grantee of the AMAF National LGBTQ+ Fellowship, which gave all participating institutions an opportunity to collaborate on different ideas. Aside from UWSPMH, the pilot awardee, Icahn School of Medicine, and the latest awardees, Harvard Medical School–Fenway Health and Vanderbilt University Medical Center, were also in attendance. Aside from staff and LGBTQ+ Commission Members, the AMA Foundation Board was invited to attend as well. The meeting was the first of many planned convenings of program stakeholders and was an important milestone in the growth of the fellowship program.
Elizabeth Petty, MD, UWSMPH program lead, led a collaborative meeting. Each institution was given the opportunity to share where they are in the process of the fellowship. Attendees heard from UWSMPH fellows Muhammad Daud, MD, and Margaretta Gergen, DO, about their experience and why they believe the fellowship is important.
Dr. Gergen commented, "When I was finishing up residency, I was [thinking] I really want to feel like I can provide full spectrum family medicine care to everyone, and I didn't feel like I could do that, especially for the LGBTQ+ community. So, I applied to this fellowship."
During the meeting guests were split into small groups to discuss different ideas pertaining to the fellowship such as community and institutional resources, unique learner opportunities, and immediate and long-term goals. After group discussions, each group was given the opportunity to share their discussions with everyone.