Meet the 2021 AMA Ohio
Physicians of Tomorrow Scholarship recipient: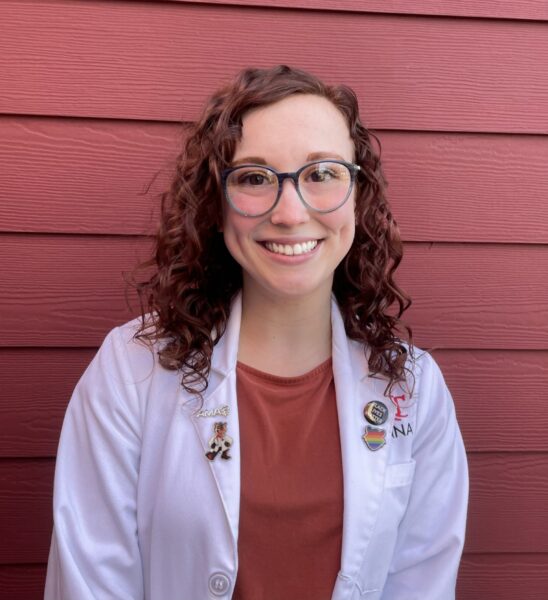 Abigail Dillaha attends the University of Cincinnati (UC) College of Medicine. During medical school, she has been involved in leadership roles with Medical Students for Choice and Medical Volunteers of UC, a student-run free clinic at a homeless shelter. She is currently applying to OB/GYN residency. In her career, she aspires to provide full-spectrum reproductive healthcare, including family planning care and complex contraception.
She has served as an Advocacy Chair and Delegate for her school's chapter of the AMA-MSS. She has been a member of multiple AMA-MSS Standing Committees and currently serves as an MSS Regional Delegate to the AMA House of Delegates. Her work in advocacy through the AMA has been instrumental in leading her to choose a career in OB/GYN. Her advocacy interests include reproductive justice, healthcare reform, and access to care for underserved populations.
A note from Abigail:
Dear Ohio Physicians of Tomorrow Scholarship donors,
I am writing to you to express my most sincere gratitude for awarding me the AMA Foundation Ohio Physicians of Tomorrow Scholarship. As you all well know, the debt burden on graduating medical students is a significant source of stress, and I am so humbled by the generosity you've demonstrated to ease some of that burden for me. I feel particularly honored to receive this award, based in part on involvement in organized medicine.
As a first-year medical student, I struggled to reconcile my passion for advocacy in women's health and reproductive justice with different special interests, as I had little idea at that point what would appeal to me clinically. Finding my voice as an active participant in advocating for women's health issues showed me that I couldn't see myself doing anything else. I knew then that I was on a path to continue a career in advocacy for my patients, both in and out of the clinic. 
I am proud of the contributions I've made to the work of organized medicine thus far. It has been especially exciting as an experienced member of the AMA-MSS to pass along my knowledge to newer medical students whenever possible. I am honored to receive this award in recognition of the work I have done and will continue to do as I move forward in my career. Thank you all.
Sincerely,
Abby Dillaha
Use the form below to make a tax-deductible donation supporting the AMA Ohio Physicians of Tomorrow Scholarship.