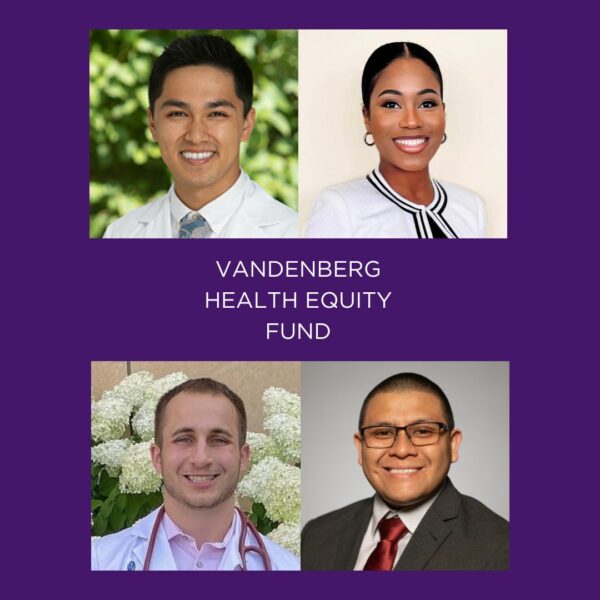 AMA Foundation and Vandenberg Health Equity Fund Announce Scholarship Recipients
The American Medical Association Foundation (AMAF) announced today that it has awarded four academic scholarships through the Vandenberg Health Equity Fund. Established by former AMA General Counsel Brian Vandenberg, the fund has committed more than $700,000 to award scholarships through the AMAF Physicians of Tomorrow Program. Vandenberg currently serves as chief administrative officer and general counsel at Homeward, a company committed to rearchitecting the delivery of health care to populations and areas that have lacked access to care, starting in rural America.
The AMAF Physicians of Tomorrow Program aims to support outstanding medical students who share a common goal of advancing health equity in historically marginalized and minoritized populations. Since 1950, it has awarded more than $61 million in scholarship aid. With multiple categories and a variety of focus areas, including serving those underrepresented in medicine, the foundation works to recognize a diverse cohort of medical students each year.
"The Vandenberg Health Equity Fund directly advances the AMA Foundation's work of addressing health disparities and promoting health equity," said AMAF Executive Director Virginia Spitzer. "Brian's commitment to supporting future physicians will greatly impact the patients and communities they serve."
The 2023–24 scholarships and their recipients include:
David Jones Peck, MD, Health Equity Scholarship
Named in honor of Dr. David Jones Peck, the first African American doctor to graduate from an American medical school—Rush Medical College in Chicago in 1847—the David Jones Peck, MD, Health Equity Scholarship is awarded to students who demonstrate a commitment to addressing health disparities and promoting health equity in marginalized and minoritized communities, recognizing and continuing Dr. Peck's legacy.
The 2023–24 recipient is University of North Carolina (UNC) School of Medicine student Brittany Cureton, MPH. Her academic journey began with a Bachelor of Arts in Public Health Studies from Elon University, focusing on the sociocultural context of health and illness. She earned a Master of Public Health from UNC Gillings School of Global Public Health.
Throughout her academic and professional career, Cureton has actively engaged in research, quality improvement initiatives and community involvement. She has conducted extensive research on topics such as health disparities, quality improvement, maternal morbidity and mortality, and obstetric outcomes. As a future physician, Cureton strives to make a meaningful impact in medicine and contribute to creating a more equitable and inclusive health care system.
DREAM MD Equity Scholarship
Established in 2020 in support of beneficiaries of the Deferred Action for Childhood Arrivals (DACA) program, the DREAM MD Equity Scholarship is awarded to a DACA student and/or a first-generation immigrant to the U.S. who demonstrates a commitment to public advocacy for the equitable treatment of immigrants.
Brian Garcia, an MD candidate at the Loyola University Chicago Stritch College of Medicine, is the 2023–24 recipient of the DREAM MD Equity Scholarship. He graduated magna cum laude from Texas A&M International University with a Bachelor of Science in Biology.
Garcia plans to pursue a career in internal medicine–pediatrics. As a medical student, he has focused on providing free medical care to uninsured and low-income families. His goal is to continue finding sustainable ways to open a free clinic in an underserved, Spanish-speaking community. Garcia also hopes to inspire younger generations to pursue careers in medicine and address health care gaps and barriers in Hispanic areas.
"As a DACA recipient, it is impossible to apply for federal financial aid. Additionally, it can be very difficult to find private loans to finance my education," Garcia states. "Having the opportunity to receive a scholarship through organizations such as the AMA Foundation, allows me to continue pursuing my goal and focus on the things that matter."
Native American Center for Health Professions Scholarship for Advancing Health Equity
The Native American Center for Health Professions (NACHP) Scholarship for Advancing Health Equity is awarded to medical students at the University of Wisconsin School of Medicine and Public Health (UWSMPH) who are members of a federally- or state-recognized American Indian or Alaska Native Tribe and/or who demonstrate a commitment to address health disparities that impact Native populations.
Kenneth Fiala is a 2023–24 recipient of the NACHP health equity scholarship. He is a UWSMPH medical student and a member of the Choctaw and Apache Tribes. A longstanding member of the NACHP, he participated in the UWSMPH Rural and Urban Scholars in Community Health program, which inspired his interest in anesthesia and research. His commitment to incorporating Indigenous health and advancing health equity has been a cornerstone in his involvement with several programs and activities.
During the first year of his medical training, Fiala participated in a summer externship with the Forest County Potawatomi clinic. He plans to complete an ambulatory acting internship at the Oneida Nation's community health center. In addition, Fiala has taken a tremendous interest in research and completed a Path of Distinction in both medical education and research. He has published 18 peer-reviewed manuscripts and seven book chapters.
Fiala has a strong commitment to paying it forward to future Native health providers. He intends to practice medicine in underserved areas and plans to pursue a career in anesthesia with a focus on chronic pain management. He aspires to work in an academic institution to continue his passion for research and teach the next generation of healers with an emphasis on serving students from underrepresented backgrounds.
Daniel Traverzo is also a medical student at UWSMPH and a recipient of the NACHP equity scholarship. A member of the Lac Courte Oreilles Band of Lake Superior Chippewa Tribe, Traverzo has been an active member of NACHP and his school community, participating in numerous NACHP offerings and student organizational activities. His commitment to advancing American Indian health equity is evident in the many ways in which he has incorporated Indigenous health training into his medical school experience.
Following the summer after his first year of medical school, Traverzo spent a week at the Black River Falls Ho-Chunk clinic to rotate in a week-long externship. He looks forward to returning for a month next year for his ambulatory acting internship rotation. In addition to holding several leadership and volunteer positions, he was proud to represent NACHP at the Association of American Indian Physicians national conference in Washington D.C. in 2022. The conference inspired him and his peers to reenergize the UWSMPH Chapter for the Association of Native American Medical Students.
In looking ahead to his future aspirations as a surgeon, he hopes to serve in an urban and underserved community with a prominent Native population where he plans to be heavily involved in the community. He is also very interested in pursuing academic medicine to work with medical students and/or resident education.
The AMAF congratulates this year's outstanding medical student recipients, who will undoubtedly advance health equity and the future of the nation's health.
To learn more about how you can support the Physicians of Tomorrow Scholarship Program, visit amafoundation.org/donate or contact Sandi Smith, director of development and principal gifts, at sandi.smith@ama-assn.org.