American Indian and Alaska Native medical professionals discuss the lack of representation in medical education and purposeful approaches to improvement, such as the AMA Foundation's Physicians of Tomorrow Program
AMA Foundation (AMAF) Board member Siobhan Wescott, MD, MPH, associate professor in the Department of Health Promotion at the University of Nebraska Medical Center, took an unlikely path to becoming a physician. After working for several years in public health, she realized that with a better understanding of disease prevention, she could make a more substantial impact on American Indian and Alaska Native (AI/AN) communities.
While pursuing her medical degree at Harvard Medical School (HMS), Dr. Wescott recognized an uncertainty toward non-white students, an all too familiar refrain of her lived educational experience. She recalls being on call with a classmate, a white man, wearing their white coats embroidered with HMS and their names. After both were paged, a nurse approached them and asked Dr. Wescott if she was the translator.
"That kind of thing happened constantly," she reflects. "My childhood prepared me to expect the unexpected. I had to explain to staff that I was there to become a physician. Even the Harvard name is of little help when people see dark skin."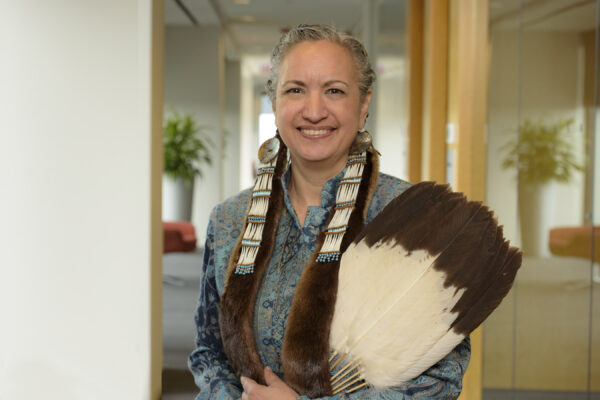 Similarly, AMA member Alec Calac, a fifth-year MD/PhD candidate in public health at the University of California San Diego (UCSD) School of Medicine and Herbert Wertheim School of Public Health and Human Longevity Science and president of the Association of Native American Medical Students, was the only Native student in his class of 134 when he enrolled at UCSD in 2018.
Prior to being admitted, Calac, a 2022 National Minority Quality Forum 40 Under 40 Leader in Minority Health, had found mentors during his undergraduate career who introduced him to different career paths in advancing AI/AN health and education. After he pursued biomedical research opportunities at the National Institutes of Health and a health policy fellowship at the National Indian Health Board, Calac eventually became involved in public health.
Calac brought his knowledge and expertise to UCSD to challenge himself as an aspiring physician and the educational system to maximize opportunities for AI/AN students. Through his hard work and determination, he made substantial improvements at UCSD. Two years after he entered the MD/PhD program, the medical school enrolled five AI/AN students. Today, the medical school has more than 10 AI/AN students and an entire program dedicated to advancing AI/AN medical education.
"You can imagine the experience was very different, where instead of being the only [AI/AN student], they could fill a table. Their lectures had direct references to Native health education. They had financial resources for board preparation and other forms of aid because I did not want to feel those same feelings of isolation," Calac asserts. "I think that's really what a lot of Native students do—they take those same feelings and use them to ensure that the path for the next generation is a little bit better. These gradual improvements really make a significant difference over time."
Pathways to success
According to the Association of American Medical Colleges, less than 10 percent of medical schools have four or more AI/AN students, and less than one percent of the physician workforce is AI/AN. Calac shares that only 11 percent of medical schools have Native health in their curriculum. Both he and Dr. Wescott agree that mentorship, training and financial support are ways to increase physician recruitment and retention rates.
"When it comes to education, we've seen virtually no change in representation across the education continuum from K through 12 to college and eventually graduate and professional education," Calac says. "There are just so few Native people who can successfully progress through all the degree paths because of financial costs, lack of mentorship and getting past the expectation that they will fail. That's why it's important that we have mentorship opportunities that begin early and often."
Dr. Wescott, an AMA member, offers the example of the successful University of North Dakota Indians into Medicine program (INMED), which is ranked first in the nation for graduating AI/AN physicians. The program provides academic, personal, social and cultural support for students in grade seven through graduate studies.
Still, programs like INMED require significant financial resources to be successful. "We're just barely keeping up with the [graduation rate] of AI/AN medical students and not really getting anywhere toward representation in medicine," Dr. Wescott says.
Supporting AI/AN and other underrepresented students
Recognizing the urgent need for financial aid for underrepresented students, AMAF student Board members Shaquille Charles and Nicolas Leighton have pushed heavily for increased support through the AMAF's Physicians of Tomorrow Program. The program distributes a $10,000 tuition assistance scholarship to medical students approaching their final year of school with the goal of creating a diverse cohort of students who are dedicated to serving underserved communities.
"There has always been a need for medical and surgical care of underserved communities," Leighton notes. "It is our hope that AMAF's Physicians of Tomorrow Program empowers the important work of underrepresented students in medicine as they begin their medical careers, research projects and professional aspirations."
"Underrepresented students in medicine see both sides of the coin. We know the side of medicine that provides hope through treatment and understanding, and the side of medicine characterized by distrust and betrayal," Charles adds. "However, as more programs continue to promote diversity in the medical field, we may bridge the gap of health disparities by fostering trust between patients and providers.
Because of Charles and Leighton's efforts, as well as external advocacy from Calac and Dr. Wescott at an early 2022 AMAF Board meeting, the AMAF awarded an additional scholarship this year to Rohsennase Dalton LaBarge, a medical student at the University of Rochester School of Medicine and Dentistry and member of the Association of Native American Medical Students. As a student, they help operate the student-run clinic at St. Joseph's Neighborhood Center, which provides specialty care to underinsured patients. LaBarge also co-founded the Bridge Program to formalize longitudinal mentorship opportunities for historically excluded students on their path through medical training.
"Recognition from the AMAF speaks to the important work of the collective, work that poses many questions and opportunities as we reimagine what the fields of medicine and medical education look like," LaBarge affirms. "Efforts to increase onkwehonwe [original or first people] representation in medicine are fundamental to fostering a deeper understanding of what it means to connect and grow with all people."
LaBarge plans to enter an emergency medicine residency with aspirations to increase the critical shortage of Indigenous physicians and to improve access to health care across traditional Rotinonshón territory.
"We have systems of healing and consensus building that can be the antidote to many challenges that our systems face," LaBarge says. "It is through the support and encouragement of initiatives—like those housed at the AMA Foundation—that we may bring our minds together as one to make the health and livelihood of future generations an achievable priority."
To learn more about the Physicians of Tomorrow program, visit amafoundation.org/programs/scholarships. Applications for the 2023–24 academic year are open through February 28, 2023.