Make sure to connect with us during the Meeting and show your Foundation pride!
Virtual Zoom Booth Schedule:
Visit the Foundation's virtual booth to verify your 2021 donor status, confirm your mailing address, speak to a Foundation staff member, receive assistance with your Zoom Donor Background, and more!
Friday, June 11: 6:00 pm – 9:30 pm CST
Saturday, June 12: 8:30 am – 5:00 pm CST
Sunday, June 13: 8:30 am – 2:00 pm CST
Monday, June 14: 9:30 am – 6:30 pm CST
Tuesday, June 15: 8:30 am – 6:00 pm CST
Wednesday, June 16: 8:30 am CST – 30 min. after Meeting adjournment
*Schedule subject to change
Commemorative Donor Pin
For donors who made a donation before May 6, 2021, you should receive your Commemorative Donor Pin via USPS before the meeting. Donations received after May 6, will receive a pin following the Meeting. All donors will receive a Zoom Background to use to show their pride during the meeting.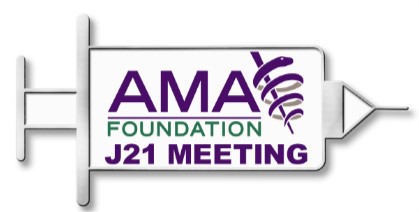 Fundraising Challenge
Thanks to a generous donor, all donations made by Delegates earmarked for medical student scholarships will be matched dollar-for-dollar, up to $50,000! This is a great opportunity to double the impact of your donation. Simply make your tax-deductible donation using the form below, or via the letter you may have received in the mail to have your donation doubled!
Check back soon for updates regarding events and ways to get involved during J21!
01 / 01
I Give Because...
"The U.S. is my adopted country. It has given me the opportunity to grow, flourish and be successful. With my donation [to the IMG Honor Fund], we will be able to provide health care resources to underserved and minority communities across the nation. This will be a small but meaningful step to addressing health care disparities and help to improve the lives of communities across the country.
Deepak Kumar, MD
Use the form below to make your tax-deductible donation to receive your donor Zoom Background. Please note that commemorative donor pins will be sent out following the meeting.