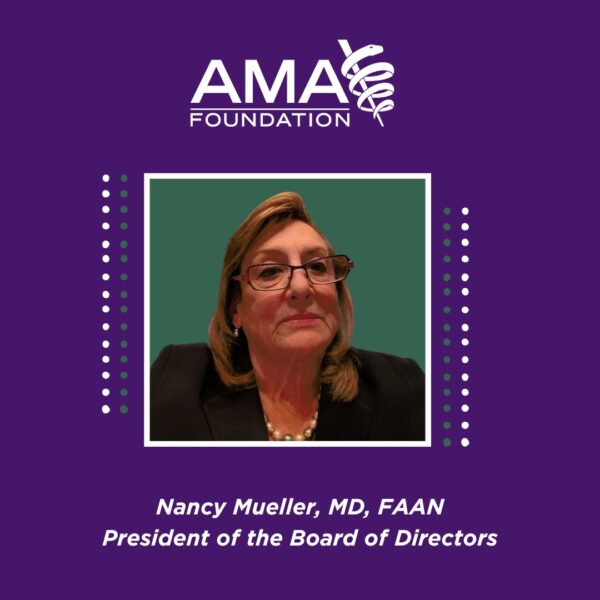 The AMA Foundation (AMAF) is pleased to announce that Nancy Mueller, MD, FAAN, is president of the Board of Directors. Dr. Mueller began her term on July 1, 2023, and will hold the position through June 2024. She has been active on the board since 2015.
Dr. Mueller is an associate clinical professor of neurology at New York University Langone Medical Center and practices neurology and pain management at her independent private practice, the Institute of Neurological Care in Englewood Cliffs, New Jersey.
"The AMA Foundation is thrilled about Dr. Mueller's presidency. Her long-time service to the foundation will undoubtedly further our mission of bringing together physicians and communities to improve the nation's health," says AMAF Executive Director Virginia Spitzer. "Her innovative goals for the foundation, as well as her dedicated leadership, will strengthen and advance our fundraising and programmatic efforts."
She is a New Jersey delegate to the AMA House of Delegates and chairs the New Jersey Delegation to the Organized Medical Staff Section. She previously chaired several AMA reference committees including the Committee on Amendments to Constitution and Bylaws. She also served as a delegate to the AMA National Leadership Conference. Dr. Mueller is involved in the American Academy of Neurology's editorial board for Continuum, the multiple sclerosis best practices editorial board and the ethics committee.
Recently, Dr. Mueller was interviewed by the AMA for its "What Doctors Wish Patients Knew" on living with migraines. Visit bit.ly/3pLZhII to read the article.
Dr. Mueller is locally active in organized medicine and her community. She is the past speaker of the Medical Society of New Jersey House of Delegates. Dr. Mueller also served as the vice-chair of the Bergen Community Improvement Authority. She is the president of the Bergen County Medical Society and the immediate past president of the New Jersey Neurological Association.
As a public servant, Dr. Mueller has served as a delegate to the National Democratic Committee on Healthcare Reform, the State Department of Banking and Insurance, the State Department of Health and Human Services and the State Healthcare Liaison Committee. She is a physician member of the Congressional Health Advisory Committee. The American Academy of Neurology honored Dr. Mueller with the Palatucci Advocacy Award for Public Advocacy.
Dr. Mueller received her medical degree from the Université Catholique de Louvain Woluwe – Saint Lambert Bruxelles. She completed a neurology residency at New York University Medical Center/Bellevue Hospital and an internal medicine residency at Englewood Hospital and Medical Center in Englewood, New Jersey.
To learn more about the AMA Foundation Board of Directors, visit amafoundation.org/about/.