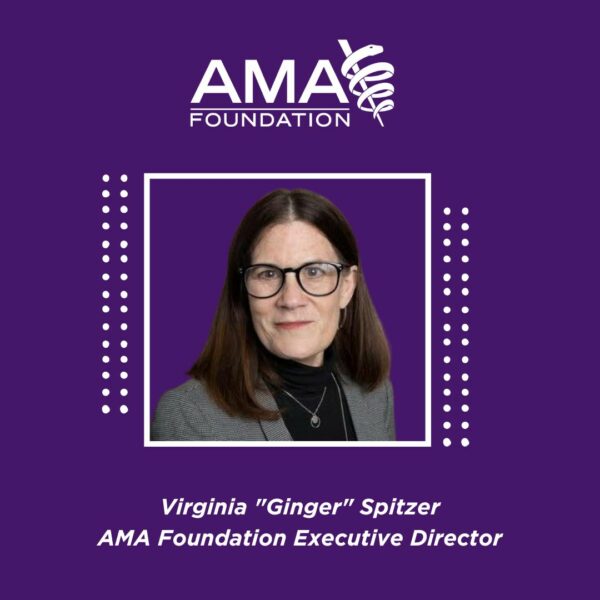 The AMA Foundation (AMAF) is excited to welcome Executive Director Virginia "Ginger" Spitzer. She joined the foundation on July 3, 2023.
With a focus on advancing AMAF's health equity program portfolio, enhancing its standing as a top charitable organization aligned with all best practices, and expanding the foundation's visibility and impact, Ginger will increase and enrich engagement with members, volunteers, and other stakeholders. The foundation's programs include the Excellence in Medicine Awards, Leadership Development Institute, National LGBTQ+ Fellowship and Physicians of Tomorrow Scholarship Program, as well as several health equity initiatives.
Collaboration, innovation and sustainability will be core in Ginger's approach, and she will ensure the foundation's work aligns with the strong culture and community of the American Medical Association. In maximizing the foundation's impact and fostering inclusion, Ginger's objectives include delivering innovative and relevant programming that advances AMAF's mission of bringing together physicians and communities to improve the nation's health.
Ginger brings 25-plus years of nonprofit leadership experience in fundraising; foundation startups; program development, operational strategies and innovative collaborative models. Much of her extensive career experience has focused on missions working toward equity, equality, access and awareness within underserved and underrepresented communities. She has specialized in areas of health care, workforce, student and youth development, education and social justice and has led organizations with local, national and global service.
To learn more about how you can support the AMAF's programs, visit amafoundation.org/programs/.