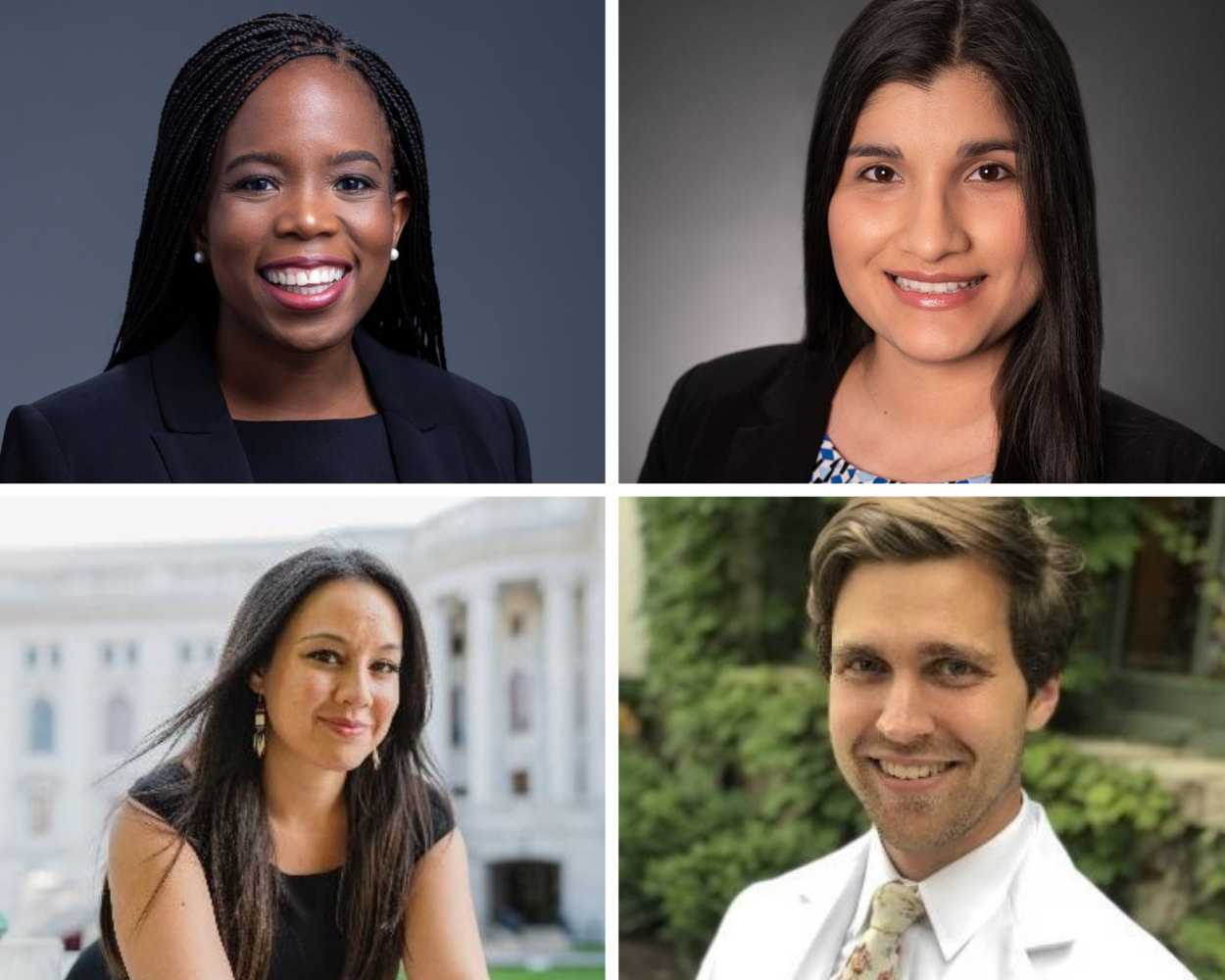 The American Medical Association Foundation (AMAF) is pleased to announce that it has awarded four scholarships through the Vandenberg Health Equity Fund. Established by former AMA General Counsel Brian Vandenberg, the Vandenberg Health Equity Fund has committed more than $700,000 to award scholarships through the AMAF Physicians of Tomorrow Scholarship Program to outstanding medical students who share a common goal of advancing health equity in historically marginalized and minoritized populations. Vandenberg currently serves as Chief Administrative Officer and General Counsel at Homeward, a company committed to rearchitecting the delivery of healthcare to populations and areas that have lacked access to care, starting in rural America.
"Brian's continued support of the AMAF and future physicians helps the foundation immeasurably in our mission of improving health equity," said Barkley Payne, executive director at the AMAF. "His philanthropic work acknowledges the importance of a diverse physician workforce that reflects our nation in order to achieve optimal health for all."
David Jones Peck, MD, Health Equity Scholarship
Named in honor of Dr. David J. Peck, the first African American doctor to graduate from an American medical school—Rush Medical College in Chicago in 1847—the David Jones Peck, MD, Health Equity Scholarship is awarded to students who demonstrate a commitment to addressing health disparities and promoting health equity in marginalized and minoritized communities, recognizing and continuing Dr. Peck's legacy.
MEET THE 2022 RECIPIENT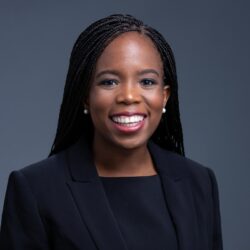 The 2022 recipient of the scholarship is Harvard University Medical School student Jennifer Kizza, MSc. A fourth-year medical student and first-generation African American with Ugandan and Malawian heritage, Kizza has furthered her epidemiologic exploration through a complete competitive National Institutes of Health Fellowship at the Massachusetts General Hospital Gastroenterology Clinical and Translational Epidemiology Unit. In her pre-clinical year, she helped organize a mental health campaign for Boston's most underserved communities through The Family Van mobile clinic. In her medical education longitudinal elective, she taught basic science and medicine to her peers and local minority high school students. Simultaneously, she conducted curricular quality improvement research evaluating the trainee's role in medical education reform. As a future internal medicine resident, she seeks to pursue a career integrating research, advocacy, medical education and public service.
DREAM MD Equity Scholarship
Established in 2020 in support of beneficiaries of the Deferred Action for Childhood Arrivals (DACA) program, the DREAM MD Equity Scholarship is awarded to a DACA student and/or a first-generation immigrant to the U.S. who demonstrates a commitment to public advocacy for the equitable treatment of immigrants.
MEET THE 2022 RECIPIENT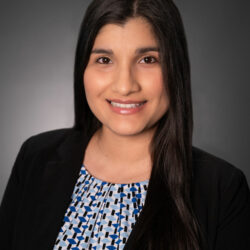 The 2022 recipient of the DREAM MD Equity Scholarship is Jacquelin "Jacky" Solis, a fourth-year medical student at Loyola University Chicago Stritch School of Medicine who plans to pursue a career in primary care. During her time at Loyola, she has been actively involved in the Latino Medical Student Association and served a term as co-president. She is a key volunteer at Loyola's clinic for uninsured patients, where she has been a health coach to patients and a medical Spanish interpreter for physicians. Solis is an instructor to other medical students in a peer-led medical Spanish program and is the liaison to a local high school in a mentor program for aspiring health care professionals. Recently, she has become a leader in the Chicago-based organization Medical Organization for Latino Advancement. In her role as co-chair of the Medical Student Committee, she represents the needs of medical students, especially as a mentor.
Native American Center for Health Professions Scholarship for Advancing Health Equity
The Native American Center for Health Professions (NACHP) Scholarship for Advancing Health Equity is awarded with a preference given to medical students at the University of Wisconsin School of Medicine and Public Health (UWSMPH) who are members of a federally-or state-recognized Native American tribe and/or who demonstrate a commitment to address health disparities that impact Native American populations.

MEET THE 2022 RECIPIENTS
The 2022 NACHP scholarship recipients are UWSMPH fourth-year medical students Megan Murphy-Belcaster and Christopher "Rufus" Sweeney.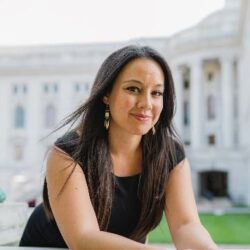 Murphy-Belcaster, a member of the Oglala Lakota and Choctaw tribes, serves as a four-year student leader for her class as the equity and diversity representative, which amplifies Native American voices in her class cohort. She also organizes the "Lend-an-Ear" program that better connects students within the medical school curriculum with students belonging to the Native American community and other underrepresented minorities.
Additionally, Murphy-Belcaster is continuing research on the impact of COVID-19 on Native American communities. Her work has been accepted for publication in the American Indian Culture and Research Journal. She has recently partnered with the Oneida Nation to continue research that ensures equitable access to optimal delivery methods for Native American mothers. She aspires to be an equitable, bias-free OBGYN to ensure that differences in background and upbringing may never negatively impact the care of women, mothers and babies.
Sweeney is an active and engaged member of the NACHP, as well as several other organizations including the Society for Advancing Chicano/as and Native Americans in Science, American Indian Science and Engineering Society and Association of American Indian Physicians. He has severed as curriculum designer and course director of "Radiology 914: Physician Financial Wellness," for which he wrote and received a $100,000 grant to conduct research for the course to measure its effectiveness at teaching underrepresented minority students, including American Indian, Black, Latino and Southeast Asian students. He has also authored work that has been published in Ophthalmology Retina and Science Magazine.
Sweeney's future aspiration as a physician is to practice psychiatry in Durant, Oklahoma, the headquarters of the Choctaw Nation.
"This year's scholarship recipients continue to inspire," said Vandenberg. "Their unwavering commitment to addressing inequities and disparities serves as an example to all as we strive toward a more representative community of physician leaders and a more equitable healthcare system. Congratulations to Jennifer, Jacky, Megan and Rufus."
Since 1950, the AMA Foundation has been a leader in health care philanthropy with programs that advance public health and medical education. As the philanthropic arm of the world's largest physician organization, the AMA Foundation has awarded more than $122 million in grants and scholarships, demonstrating nationwide programmatic excellence. You can apply for these and other AMAF scholarships during the next cycle of Physicians of Tomorrow applications, scheduled to open in December 2022.