Last month during the American Medical Association's (AMA) June Special Meeting, the delegate community came together to honor the legacy of Dr. Paul O'Leary through the Paul O'Leary, MD Memorial Fund. Established in May by a group of dedicated physicians, the fund supports the Underrepresented in Medicine Scholarship program at the AMAF.
Dr. O'Leary was passionate about organized medicine and believed strongly in the importance of mentorship for young physicians. He served as president of the Birmingham Psychiatric Society, Speaker of the Assembly of the American Psychiatric Association (APA), as a long-standing member of the APA Delegation to the AMA, and more. "Paul's dedication to medicine and tireless advocacy was about paying it forward, building the system up to be stronger and better," says Ilse Levin, DO, MPH & TM. "As the fund continues to grow, we will honor Paul's advocacy and ensure that his work during his lifetime continues for years to come."
The outpouring of generosity from fellow AMA and APA members is a testament to the impact Dr. O'Leary had on those who were fortunate to know him.  "Paul was one of the first people to welcome me to the AMA in the Young Physician Section (YPS)," shares Toluwalase Ajayi, MD.  "I came to the AMA as a young physician and was not involved as a medical student or resident, so I didn't know many people. He gave me a warm welcome and consistently helped me navigate the YPS and the AMA. When we heard about his unexpected death, there was quick mobilization to honor the great physician and person Paul is. We are so grateful to the donors who helped get this off the ground and the many young physicians who have donated and helped spread the word."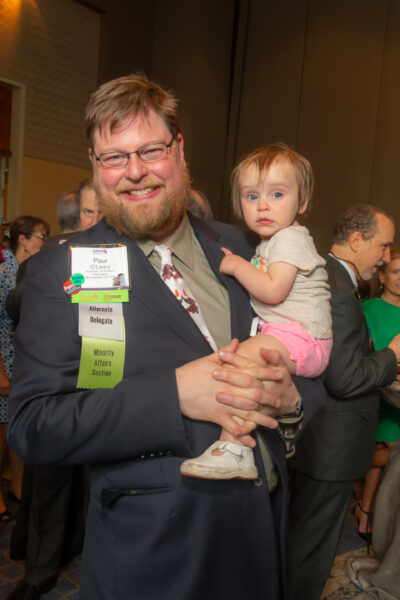 The Paul O'Leary, MD Memorial Fund began with the generous investments of a group of lead donors and through the extraordinary support of many more individuals during the House of Delegates Meeting, the fund has surpassed its initial goal of $100,000. If you would like to learn more about the Paul O'Leary, MD Memorial Fund and make a tax-deductible donation, click here. You can also view a live donor wall by clicking here.